Beyond Series with Briston Talbot of Digital Trace Australia
DMAW Lawyers recently welcomed Briston Talbot of Digital Trace Australia to speak as part of our Beyond Series.
In a session hosted by principal Paul Dugan, Briston spoke candidly about his upbringing and life in South Africa, move to Australia and the winding career path which led him from construction to accounting, auditing to insolvency and restructuring, to a masters in cyber information security and finally to where he is today as owner and principal at Digital Trace Australia.

Briston also shared seasoned advice about striving for "workplace harmony" over "balance", making connections in the early years of business and the importance of building trust with your commercial partners.
DMAW Lawyers would like to thank Briston for his insightful presentation and taking time out of his day to speak with our team.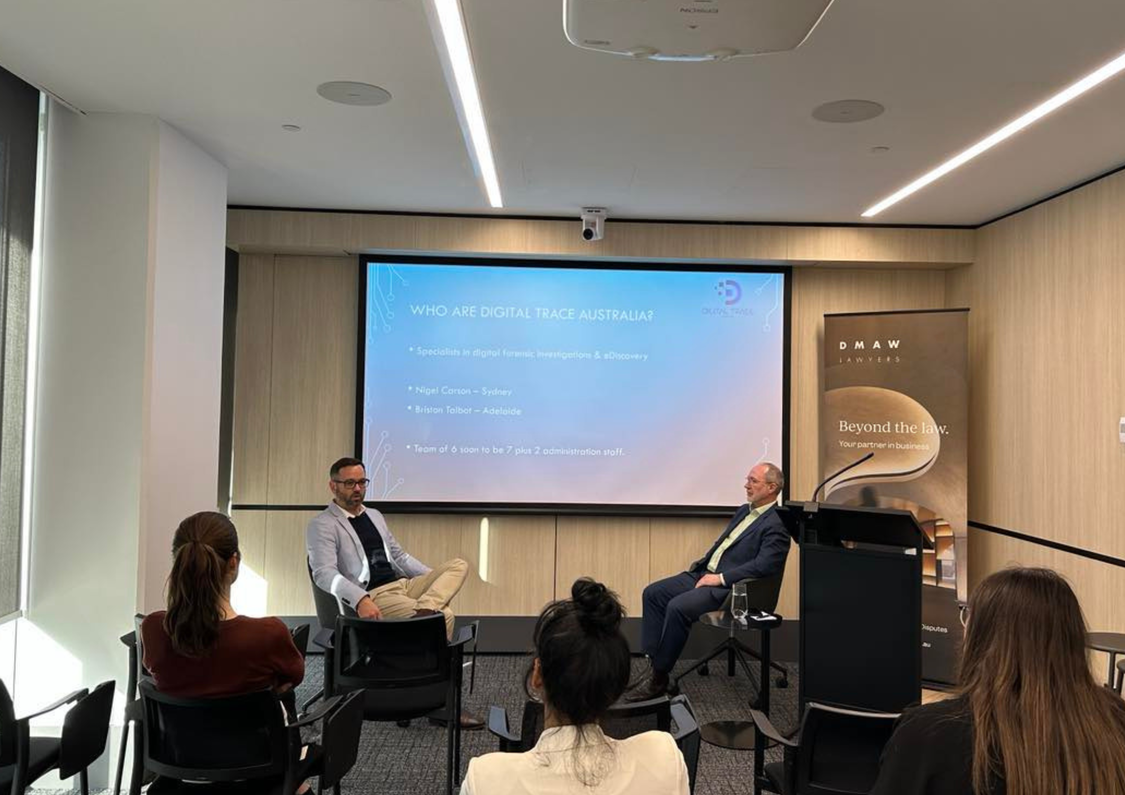 What is Digital Trace Australia?
Digital Trace Australia is a specialist consultancy company delivering digital forensics & e-discovery expertise relevant to a broad range of cases across commercial, civil and criminal matters.
They combine significant industry experience, qualifications and specialist technical skills to deliver a comprehensive service catalogue which is independent, adaptable and focused on service delivery.
Find out more about Digital Trace Australia here.
The Cyber Alliance Group is a collaboration between DMAW Lawyers, Comunet and Digital Trace Australia to provide comprehensive cyber security advice and services to business.

Whether you are responding to a cyber security incident or are looking to proactively enhance your cyber security processes and governance, we can provide a range of services that will enable you to re-focus your attention where it's needed – your business.
Find out more about our involvement with the Cyber Alliance Group here.
The way we do business has been transformed by data-driven technological advancements and remote working arrangements – with that, cyber attacks and the theft and misuse of personal and valuable commercial information have become increasingly prevalent.

The regulatory landscape has begun to rapidly evolve as we move into an increasingly cyber future. It is important now more than ever for all businesses, big and small, to devote the necessary time and resources to understand and manage their data protection risks to avoid serious commercial and reputational damage, and potential legal liability for the business and board members or officers.

We can help.

Find out more about how our Cyber and Information Security experts can assist your business here.