SA Leaders Celebrating Women in Business Luncheon
DMAW Lawyers proudly sponsored and attended this year's South Australian Leaders (SA Leaders) Celebrating Women in Business Luncheon.
Seva Surmei, Tasha Naige, Nicole Mead and Bernice Witkowski attended the inspiring event on behalf of the firm along with our esteemed guests.
MC'd by radio personality Ali Clarke, the event featured guest speaker Melody Horrill (journalist, former TV presented and media/communication manager) who spoke in-depth about the story behind her profound and transformational new memoir "A Dolphin Called Jock" and an entertaining inteview with Amanda Blair (broadcaster, Women's Weekly columnist, philanthropist and mother of 5) sharing valuable insights into embracing passions, vulnerability, collaborating and ageing.
Guests enjoyed the presentations over lunch and also had the opportunity to participate in a raffle, raising funds for the Zahra Foundation.

We also attended the pre-luncheon workshop, led by CEO of BE Sustained, Christine Molitor. The workshop focused on empowering women and embracing feminine leadership power and encourage attendees to delve into depths of self-discovery and growth, learning essential skills to curb your inner critic, build compassionate self talk and more.
Thank you to SA Leaders for facilitating another excellent event and to our guests for their participation.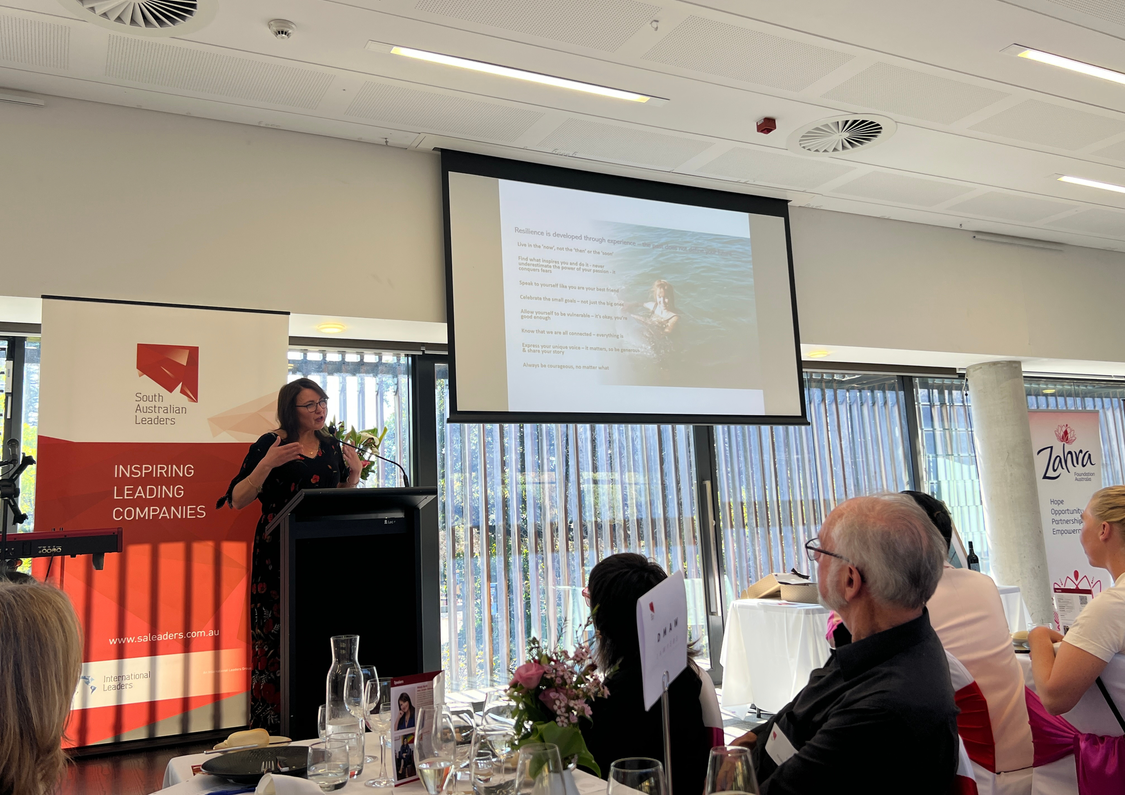 What is South Australian Leaders?
South Australian Leaders (SA Leaders) is a trusted community of like-minded business owners and leaders, supporting its members to work 'on' their businesses, collaborate, improve and grow.
As an Industry Expert, we have the privilege of getting to know and providing guidance to members through monthly Knowledge Workshops and Mentoring Sessions as part of the Executive Leaders Series.
Find out more about the SA Leaders network here.
We are a leading South Australian commercial law firm delivering value to businesses since 2002 through our core services of corporate, transactions and disputes. We are in business to help our clients and our people thrive – to go beyond.
Discover the DMAW Lawyers' difference here.